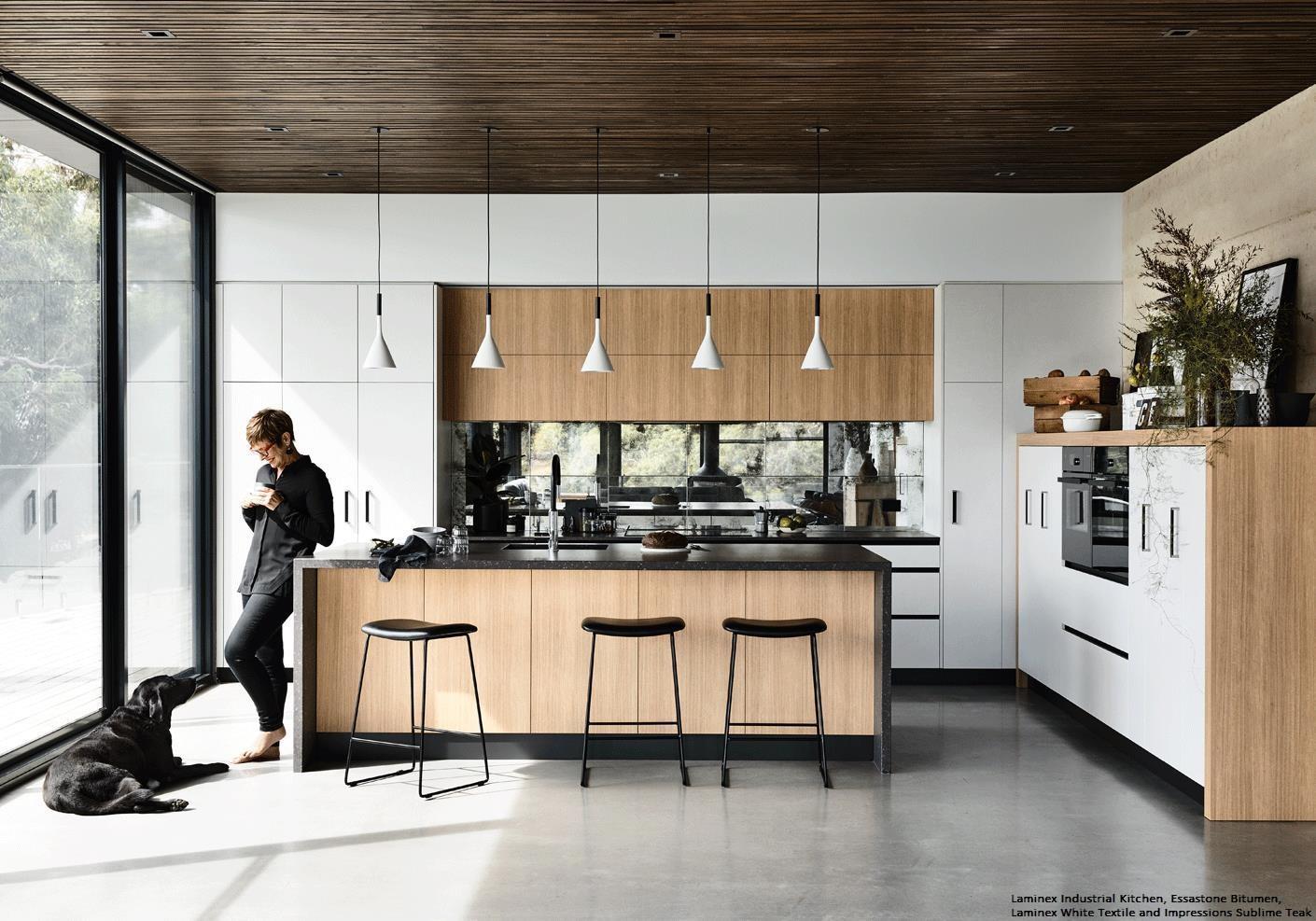 Finding the 'perfect' kitchen cabinet design can often feel akin to looking for a needle in a haystack. You want something that not only complements your home decor and personal style but also enhances the overall functionality of your kitchen.
In this guide, we're going to cover everything you need to consider when it comes to designing the perfect kitchen cabinetry.
What Makes a Perfect Fit?
Designing beautiful kitchen cabinets is a blend of form and function. The perfect fit is achieved when your cabinets not only resonate with your personal style, but also cater to your storage needs, are made from high-quality materials, and work with other kitchen elements to create one cohesive design.
Personalisation
Personalisation is key to the perfect kitchen cabinet design for your home, allowing you to express your unique style and lifestyle needs. It's about turning a functional necessity into a reflection of personal taste and habits. When it comes time to design your kitchen cabinets, consider the following features:
Colour

– Consider the mood you are aiming for, and how your cabinets might contrast or compliment other kitchen elements.

Finish

– Choose between glossy, matte or distressed finish.

Cabinet door style –

A few options include shaker, flat panel, beadboard and raised panel.

Hardware

– Such as knobs, handles and pulls.

Lighting

– Under-cabinet lighting not only adds functionality but also highlights the beauty of your cabinets

Materials

– Options range from various types of wood to laminate or glass. 
Space Optimisation & Layout
Space optimisation and kitchen cabinet layout are integral to cabinet design, directly impacting the functionality, flow, and overall feel of your kitchen.
Ensure you design your cabinets for effective space optimisation by using every inch of your kitchen to its fullest potential and creating ample storage space by transforming even the most awkward spaces into functional storage areas.
The layout of your cabinets should consider your kitchen's size, shape, and placement of appliances to create an efficient working space, promoting easy movement and accessibility. Whether it's incorporating pull-out drawers for hard-to-reach areas, installing upper cabinets for extra storage, or designing a multi-functional kitchen island with integrated cabinetry, the goal is to create a space that marries convenience with aesthetics.
Quality Material
The use of quality materials in kitchen cabinet design is paramount, as it directly influences the durability, functionality, and aesthetics of your kitchen. High-quality materials not only withstand the rigours of daily use and changes in temperature and humidity, but they also retain their beauty over time, keeping your kitchen looking its best for years to come.
Whether it's the rich warmth of hardwood, the sleek modernity of stainless steel, or the timeless elegance of marble or granite, the materials you choose for your cabinets can dramatically enhance the overall design of your kitchen. It's not just about creating a kitchen that looks good – quality materials also ensure your kitchen continues to perform and impress long after the renovation dust has settled.
To ensure your cabinets last a lifetime, we recommend reaching out to bespoke kitchen cabinets maker like Casvino Kitchen, who can help you make an informed decision about what materials would best suit your needs.
A Cohesive Look
Your cabinetry needs to work together with the rest of your kitchen style to create a cohesive look. It's vital to consider how your cabinets will blend with other key features, like your kitchen walls and benchtops. The relationship between your cabinets and benchtops is significant, as they often command the most visual space in your kitchen.
Whether you're aiming for contrast, like white cabinets with dramatic black marble countertops, or harmony, like oak cabinets paired with warm-toned kitchen stone benchtops, the combination should resonate with the overall style and colour scheme of your kitchen.
If you're yet to decide on your kitchen bench style, you can learn more about our wide range of high-quality stone benchtops here.
Kitchen Cabinet Design Ideas We Love
With so many beautiful kitchen design ideas out there, it's hard to know what your personal preference is when it comes to cabinets. Below are some of our favourite kitchen cabinet design ideas to get you inspired:
Classic Kitchen Cabinets
Classic kitchen design typically leans towards cream or white cabinets, though darker accents can add a dramatic touch to the overall aesthetic. Natural materials like high-quality timber are a common choice, bringing an enduring, earthy appeal. In classic kitchens, cabinetry often extends to the ceiling, maximising storage and creating a grand impression.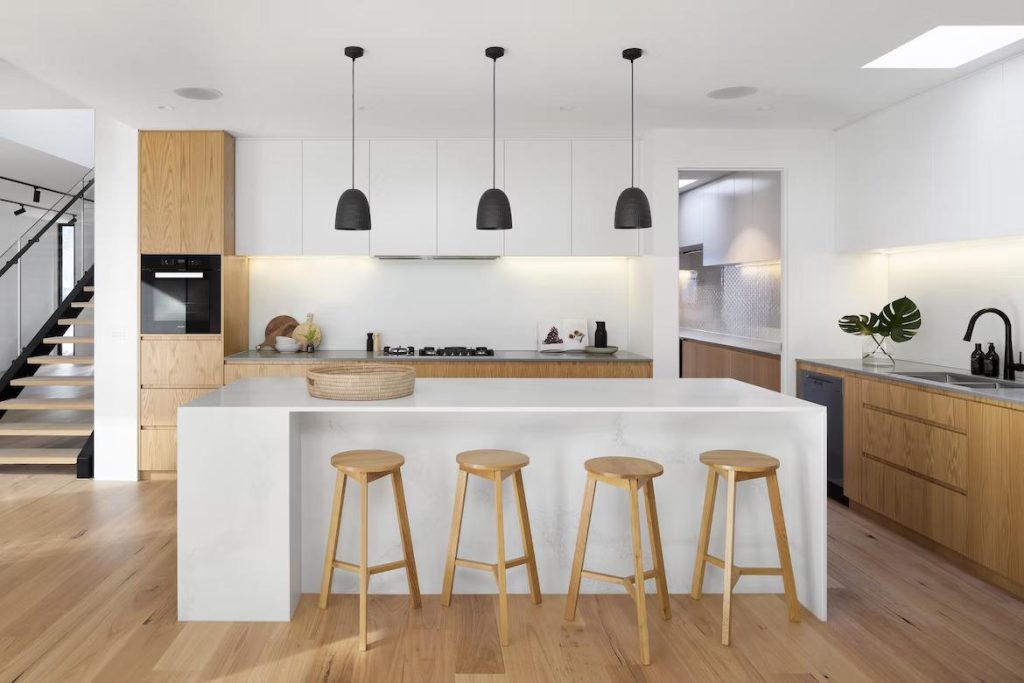 Contemporary Cabinet Design
Contemporary style cabinets are a fusion of modern kitchen design elements and functional innovation, offering sleek, clean lines and a minimalist aesthetic. These cabinets often feature flat-panel or slab-door styles, devoid of ornamentation, to create a smooth and uncluttered appearance. The colour palette leans towards monochromatic hues with timber elements, and high-gloss finishes are common. Materials often include high-quality laminates, glass, and stainless steel, contributing to the sophisticated, luxurious kitchen contemporary design. These cabinets may also incorporate innovative storage solutions like pull-out drawers and corner carousels, maximising space and convenience.
Hamptons Style
Hamptons style kitchen cabinets bring to life the comfort and warmth of coastal living, offering a serene and inviting aesthetic. They often feature shaker cabinets, known for their classic lines and timeless appeal and the colour palette is typically light and airy, with shades of white, cream, and soft blues.
High-quality timber finished in crisp white is a common material, enhancing the fresh, clean feel of the space. Detailed craftsmanship is key in Hamptons kitchens, with features such as beadboard or panelling adding depth and interest. Glass-front doors can also be used to display beautiful dishware, adding a touch of sophistication.
Industrial Cabinets
Industrial style kitchen cabinets embody the raw, rugged charm of professional kitchens, combining functionality with a distinct, edgy aesthetic. These cabinets often feature flat or slab-style doors, with a utilitarian design. The colour palette typically includes darker hues, such as greys and blacks, paired with the natural colours of wood and metal.
Materials like stainless steel, concrete, and reclaimed wood are common, adding to the unrefined, robust feel of the space. Exposed hardware, metallic accents, and a matte or distressed finish can further enhance the industrial vibe.
Minimalist Look
Minimalist style kitchen cabinets are the epitome of less is more, prioritising functionality and simplicity to create a clutter-free space. These cabinets often feature flat-panel or slab doors, with streamlined hardware or even handle-less designs for a clean, uninterrupted facade.
The colour scheme is typically neutral, with shades of white, grey, or black, though splashes of bold colour can provide an eye-catching contrast. High-quality materials like stainless steel, glass, and high-gloss laminates are common, contributing to the sleek, modern appeal. Minimalist kitchens often incorporate innovative storage solutions to maintain a clutter-free environment, such as deep drawers and pull-out organisers.
Want Some Help with your Kitchen Cabinet Design?
Designing the perfect, high-quality cabinetry is an art that balances aesthetics, functionality, and individuality, and it can be a big job. If you need a hand with your kitchen design process, our professional team here at Casvino Kitchen is ready to help. We're committed to bringing you your dream kitchen, and guiding you through the design process, helping you make informed decisions about what is best for your home. If you'd like design help from cabinetry professionals, reach out to our experienced team today to start planning your dream kitchen!