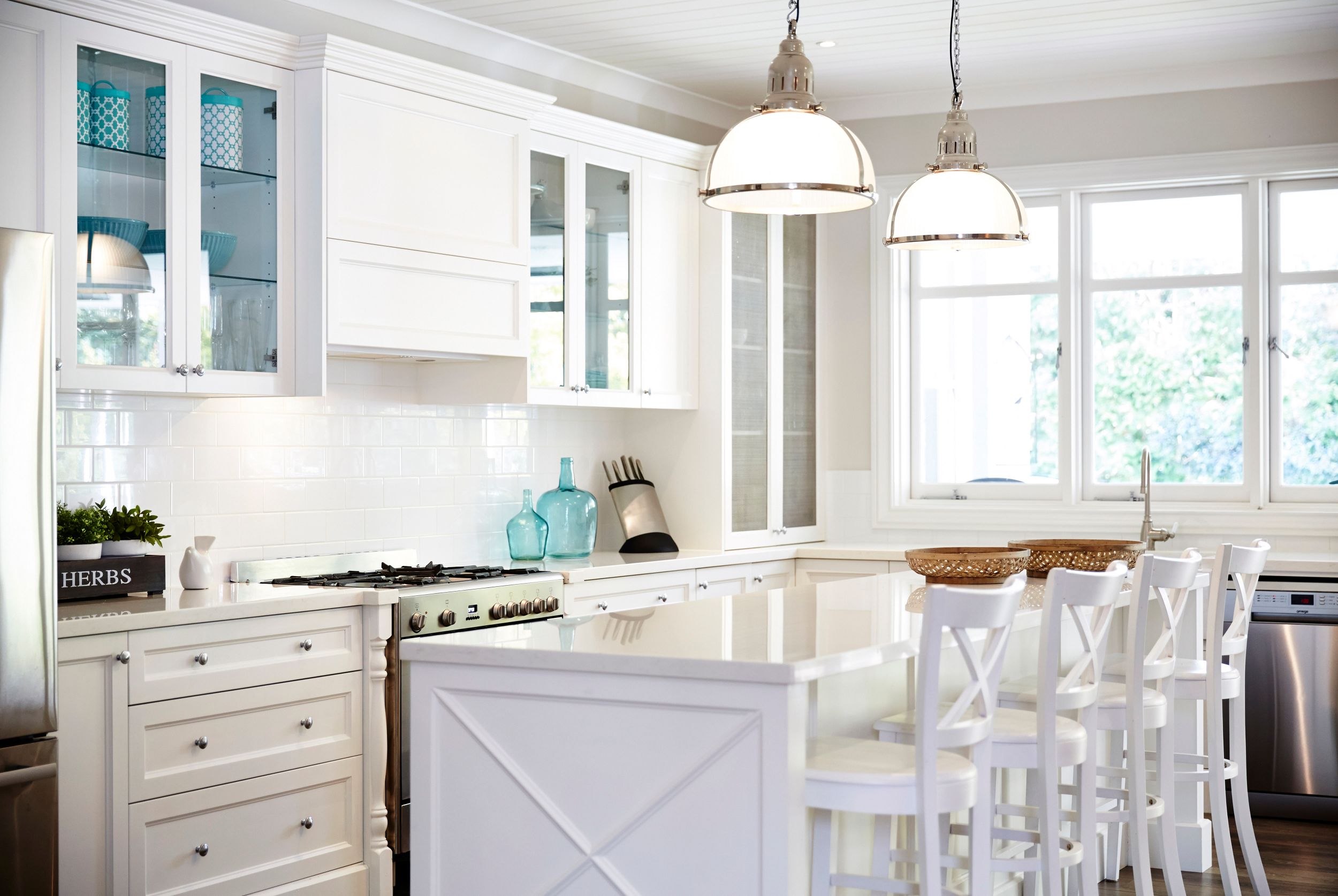 The kitchen is often considered the heart of your home. More than just a functional area, the kitchen is a place of creativity, warmth, and shared memories.
Because of this, when it comes to kitchen renovation or building a new kitchen, choosing the perfect design is always the hardest part. To get you inspired, we've compiled a list of modern kitchen design ideas that we love.
1. Classic Kitchens
A classic kitchen design embodies elegance, warmth, and timeless style. Inspired by traditional design elements, it masterfully combines functionality and aesthetics, creating an inviting and comfortable room that resonates with sophistication.
Colour Palette
Classic kitchens celebrate a neutral and soft colour palette that exudes warmth and sophistication. Typically, you will see shades of white, cream, or muted greys which serve as an elegant canvas for the detailed cabinetry and benchtops.
Cabinetry
The cabinetry in classic kitchen designs truly stands out due to its intricate detailing. Made from wood, these kitchen cabinets often feature mouldings, beadboard panels or glass-front doors, adding a layer of elegance and vintage charm. Upper cabinets are also common in classic kitchens.
Benchtop Style
Classic kitchens often feature benchtops made from high-quality materials such as marble or granite. These benchtops, apart from being durable and functional, add a touch of luxury to the design.
Tiling
The tiling in classic kitchens often complements the neutral colour palette. Subway tiles are a popular choice for their timeless appeal, providing a perfect balance between traditional and contemporary design elements.
Hardware
Classic kitchens pay close attention to hardware details. Ornate handles, traditional tapware, and farmhouse-style kitchen sinks are common features that contribute to the overall nostalgia and timeless charm of this design.
Budget
A classic kitchen design, with its emphasis on quality materials and intricate detailing, can be a more expensive investment compared to other designs. However, it's important to remember that this design style prioritises longevity and timeless appeal, making it a worthwhile expenditure in the long run.
2. Contemporary Kitchens
A contemporary design best fits when there is plenty of natural light and an open floor plan, exuding a sense of sleek sophistication and modern elegance. Characterised by clean lines and a dynamic colour palette, this style represents the modern kitchen design of today and is the most flexible style to build your dream kitchen on.
Colour Palette
Contemporary kitchen designs embrace a diverse colour palette. While neutrals, whites, and greys are typical, these spaces often incorporate bold, contrasting colours or unexpected pops of vibrant hues to create a sleek and modern aesthetic.
Cabinetry
The cabinetry in contemporary kitchens is typically characterised by its streamlined appearance. Often, you'll see flat-panel or slab-door cabinets with a glossy finish or made of unique materials, like glass or metal.
Benchtop Style
In terms of benchtops, contemporary kitchen designs lean towards engineered stone, quartz, or polished concrete options. These materials not only deliver a sleek, refined finish but also offer durability and easy maintenance.
Tiling
Contemporary kitchens feature tiling that enhances the modern design. Large-format tiles, geometric patterns, or glass backsplashes are popular choices that add unique visual interest to the space.
Hardware
Hardware in contemporary kitchens is understated and functional. Stainless steel handles, modern tapware, and innovative fixtures all contribute to the streamlined and uncluttered aesthetic of the design.
Budget
The budget for a contemporary kitchen can vary greatly, depending on the choice of materials and appliances. High-quality materials and state-of-the-art appliances often necessitate a higher budget, but more affordable options can be selected without compromising the contemporary feel.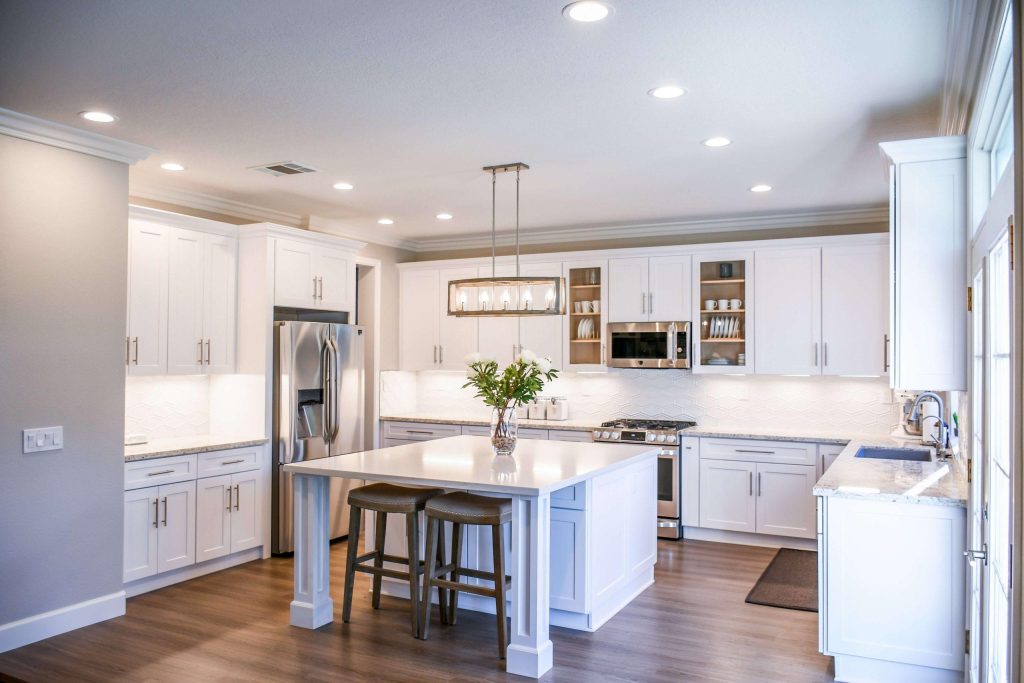 3. Hamptons Kitchens
Hamptons kitchen design is an elegant and timeless style inspired by the coastal homes of Long Island, New York. A Hamptons kitchens evokes a sense of warmth and sophistication, while the addition of subtle nautical, beach-inspired accents captures the essence of seaside living.
Colour Palette
Hamptons kitchen designs typically boast light and airy colours. Crisp whites and soft neutrals, often complemented by cool blues and greens, serve as the foundation of this design style, reflecting its coastal inspiration.
Cabinetry
Shaker-style cabinets are a hallmark of Hamptons kitchens. These cabinets, often painted in white or soft pastel hues, add a touch of classic appeal and lend depth and character to the design.
Benchtop Style
Beautiful marble or stone benchtops are common. These materials not only exude luxury and timeless appeal but also offer durability and functionality.
Tiling
Subway tiles are a popular choice in Hamptons kitchens, often used as a backsplash to provide a classic yet stylish aesthetic. The tiles usually stick to the neutral colour palette, complementing the overall design.
Hardware
Hamptons kitchen hardware typically includes traditional-style handles and knobs, often in brushed nickel or chrome finishes. These details contribute to the overall classic and sophisticated aesthetic of the kitchen.
Budget
Given the emphasis on high-quality materials and detailed craftsmanship, a Hamptons kitchen may require a higher budget. However, the investment results in a timeless and elegant kitchen that offers long-lasting appeal.
4. Industrial Kitchens
Industrial kitchen designs exude a raw and edgy atmosphere, inspired by the functionality of factories and warehouses. The kitchen layout emphasises practicality for food preparation and boasts a unique and distinctive feel.
Colour Palette
The industrial kitchen design is characterised by a bold and moody colour palette. Darker tones like blacks, greys, and browns dominate, often complemented by raw colours of exposed bricks, metals, and wood.
Cabinetry
Industrial kitchens favour simplicity and functionality in cabinetry. Often crafted from reclaimed wood or metal, kitchen cabinets can feature open shelving, offering practical storage solutions.
Benchtop Style
Benchtops in industrial kitchens are typically made from raw materials such as concrete or stainless steel. These materials not only add a rugged aesthetic but also offer durability and practicality.
Tiling
Tiling in industrial kitchens leans towards a raw, exposed aesthetic. Subway tiles in darker shades or with a distressed finish are a popular choice for their rugged appeal and versatility.
Hardware
In keeping with the aesthetic, industrial kitchens often feature hardware in raw metals. Think stainless steel handles, exposed pipe tapware, and heavy-duty light fixtures, all contributing to the overall edgy and utilitarian look.
Budget
The budget for an industrial kitchen can vary. It's possible to create a stunning look on a modest budget using reclaimed materials and vintage pieces. However, the cost can escalate when incorporating high-end kitchen appliances or custom-made elements.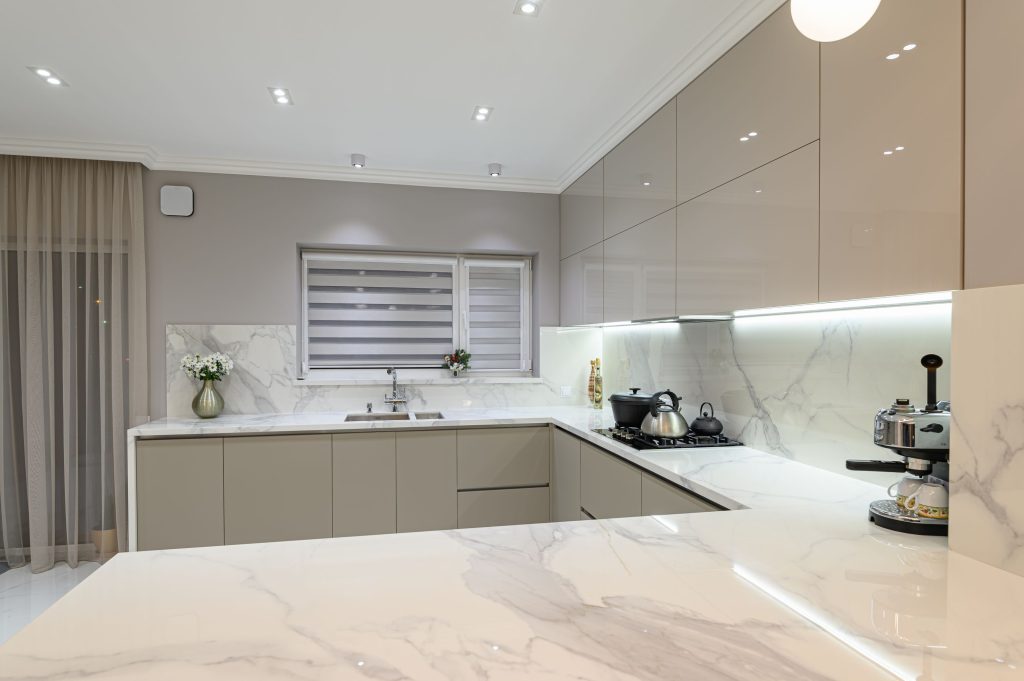 5. Minimalist Kitchens
Minimalist kitchen styles emphasise functionality and simplicity. They are the epitome of less is more, and often incorporate innovative storage solutions to make the most of every small space. Because of this, the minimalist design paired with a galley kitchen layout or a u-shape kitchen layout is perfect for small kitchen storage.
Colour Palette
Minimalist kitchens favour monochromatic colours, the design forgoes bright and bold colours, instead focusing on the beauty of simplicity and understated elegance.
Cabinetry
Clean lines, smooth surfaces, and handle-less doors and drawers are the hallmarks of minimalist kitchen cabinetry. This simplicity makes the kitchen feel more spacious and open, contributing to the minimalist aesthetic.
Benchtop Style
Minimalist kitchen stone benchtops feature sleek and durable materials like granite or engineered stone. The benchtop's functionality is highlighted, with minimal detailing allowing for an uncluttered workspace that emphasises the beauty of simplicity.
Tiling
Large-format tiles in neutral shades perfectly complement the minimalist design. The tiles are often arranged in a brick pattern to create visual interest while still maintaining a streamlined aesthetic.
Hardware
Hardware is often absent altogether. Handle-less cabinet doors and drawers with push-to-open mechanisms create a clean look that prioritises functionality over ornamentation.
Budget
The minimalist kitchen designs prioritise fewer elements and emphasise simplicity and practicality, resulting in a lower cost kitchen.
Need a Hand Designing Your Dream Kitchen?
Deciding on the perfect kitchen design ideas for your home can be daunting. If you're unsure of the best choice, getting in touch with professional kitchen design and kitchen cabinets Perth experts is a great idea.
At Casvino Kitchen, we are passionate about bringing you a beautifully designed kitchen that transforms your ordinary moments into extraordinary ones. Get in touch with our experienced team today to see how we can help you craft your perfect kitchen designs.