The thought of a kitchen renovation can be an exciting, yet daunting idea. It's a journey filled with creative sparks and high hopes. Yet, it's not without its fair share of stress and overwhelm. After all, your kitchen isn't just any room. It's the heart of your home, the space where meals are enjoyed, stories are shared over cups of coffee, and family memories are woven over time. 
With this guide, we hope to make your kitchen makeover journey smoother and more enjoyable, laying out all the things you'll need to consider before you get started, and inspiring you with innovative kitchen renovation ideas. Whether you're working with a small kitchen, a specific element of your kitchen, or revamping your entire kitchen space, this blog is your dedicated companion, designed to make your dream a reality. 
Step 1: Determining the Space & Scope of Your Kitchen Renovation
When kicking off your kitchen renovation, a pivotal first step is understanding the space you have at your disposal. This is crucial as it shapes your design choices and influences the renovation's outcome. For larger kitchens, consider varying layouts to see what best accommodates your lifestyle. Ponder on elements like a spacious island or a dedicated dining area to optimise the available space.
For a small kitchen, the goal is to maximise efficiency. Achieve this through vertical storage solutions, smart appliance placement, and clever use of colours that give the illusion of a larger room. Don't forget that with small kitchen renovations, adjusting your floor plan could be instrumental in enhancing the potential of your space. Whether it's adopting an open-plan design or simply repositioning elements for better workflow, this tip could be your key to a successful kitchen renovation. Ultimately, your new kitchen should reflect your personal style and suit your daily needs perfectly.
Step 2: Deciding on Your Kitchen Style
​​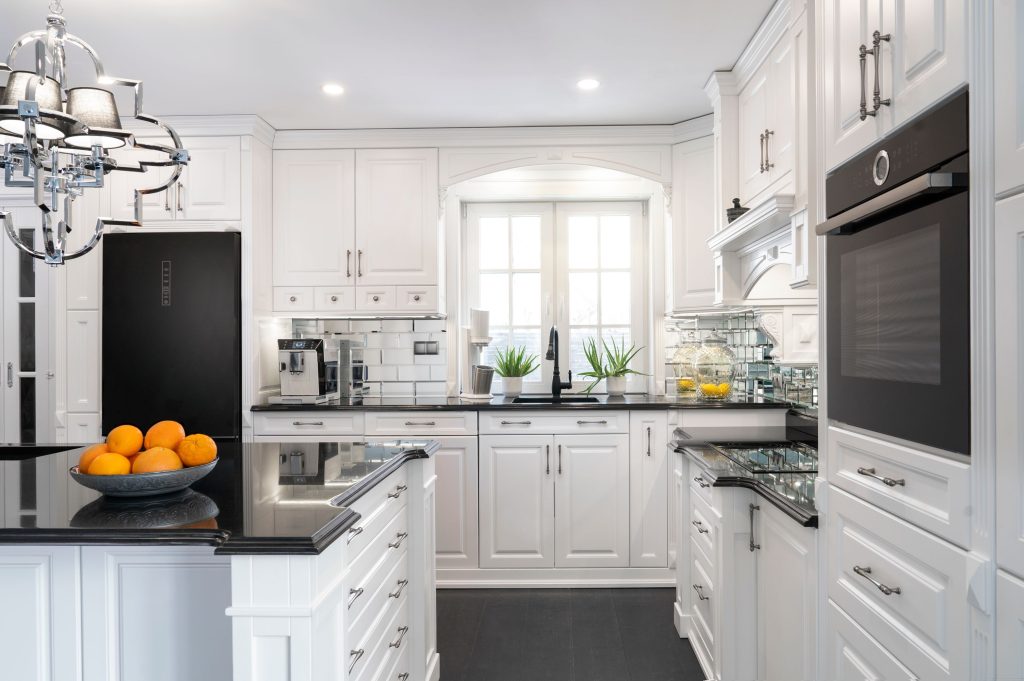 Defining your overall kitchen style is a crucial yet exciting stage in your kitchen renovation, and should happen before you consider any of the finer details. This decision shapes the rest of your design choices, from cabinets and countertops to colour schemes and lighting. You might be drawn to the simplicity and sophistication of a minimalist design, with its emphasis on functionality, clean lines, and a neutral palette. Alternatively, the timeless elegance and symmetrical designs of a classic kitchen might be more your style, featuring traditional elements that never go out of fashion.
Contemporary kitchens strike a balance between functionality and personality, featuring sleek lines, modern appliances, and innovative storage. If you're a fan of coastal aesthetics, the Hamptons kitchen, with its bright palette and mix of natural textures, might be your ideal choice. Alternatively, for a more rugged, urban appeal, the industrial style kitchen showcases raw materials and draws inspiration from old factories and industrial spaces. Regardless of your chosen style, the aim is to create a harmonious space that reflects your taste and integrates seamlessly with your home's overall aesthetic.
To learn more about what style of kitchen would be perfect for your home, head to our blog about our 5 Favourite Kitchen Designs of All Time. 
Step 3: Choosing Your Kitchen Cabinets
New cabinets play a pivotal role in defining the overall aesthetics and functionality of your kitchen. They form a significant part of your kitchen's visual appeal while providing much-needed storage space. If your style leans towards the modern side, you might want to consider sleek, streamlined upper cabinets. These can be paired with open shelving for a trendy, spacious look that blends storage with display. Opt for finishes in high-gloss or matte, with handle-less designs or slim, understated pulls that enhance the minimalist vibe.
On the other hand, if a traditional style resonates with you, lower cabinets might be your go-to in your new space. These often come with richly detailed cabinet doors that add depth and personality to your kitchen. Think raised panel doors, glass-front cabinets, or those with ornate handles for that added charm. A kitchen remodel is also the perfect time to add extra storage space. From deep drawers for pots and pans to pull-out spice racks and corner carousels, the options are plentiful. Whether modern or traditional, the right kitchen cabinets Perth can transform your kitchen, making it a place that's not only stylish but also well-organised and practical.
Discover more about what kitchen cabinet design might be right for you in our Ultimate Guide to Kitchen Cabinet Design.
Step 4: Picking the Perfect Kitchen Island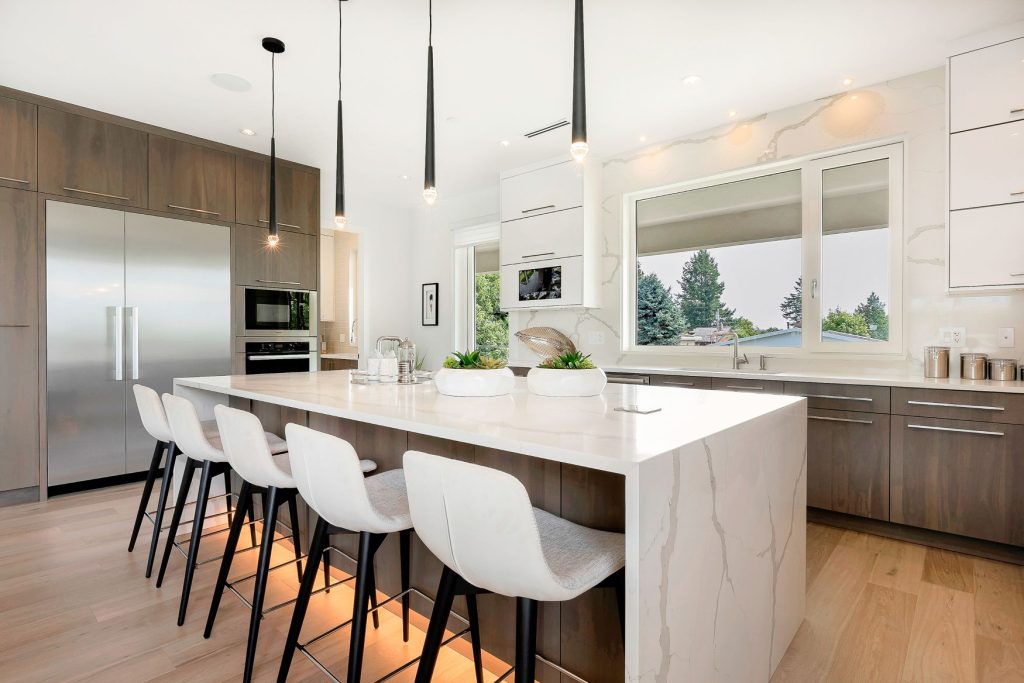 In many contemporary kitchen designs, the kitchen island has emerged as more than just a luxury; it's become a versatile centrepiece that marries style and functionality. It effortlessly takes on multiple roles, serving not only as an additional workspace but also as a casual dining area and a storage unit. The island can instantly enhance your kitchen's utility, providing supplementary counter space for food preparation, baking or even as a place to station your small appliances.
However, the key to incorporating a kitchen island lies in your existing floor plan. Carefully consider how an island would complement and fit within your space without obstructing the flow. The size and shape of the island should be proportionate to the kitchen dimensions to maintain balance and functionality. Furthermore, the style of the island, from its colour to the choice of countertop material, should echo your overall kitchen design for a cohesive look. Whether you opt for a sleek, minimalist island for your modern kitchen, with neutral or white cabinets, or a rustic, butcher block island for your country-style kitchen, the island can be a significant element that elevates the aesthetic and practicality of your kitchen.
Step 5: Choosing the Right Kitchen Benchtops
Benchtops form a significant part of your kitchen renovation project, serving both functional and aesthetic roles. Their selection requires careful consideration, as they must be durable, easy to maintain, and complement your overall kitchen style. For an upscale, modern appeal, marble countertops with distinct veining add a splash of luxury. However, if a rustic or traditional vibe is more to your liking, consider the warmth and homeliness of butcher block benchtops.
In a contemporary setting, natural stone benchtops can elevate your kitchen with their unique patterns and robust durability. Alternatively, stainless steel benchtops can lend a clean, professional vibe, especially appreciated by lovers of the industrial, sleek design. Your cooking habits should also influence your benchtop selection. For instance, heat-resistant materials like granite or stainless steel are perfect for a home gourmet chef, while engineered stone or laminate offer low-maintenance, stain and scratch-resistant options. The harmonisation of your benchtop material with other kitchen elements, such as cabinets, backsplash and appliances, will enhance both the functionality and aesthetics of your new kitchen, making your renovation a triumphant success.
Here at Casvino Kitchen we are in love with all things kitchen stone benchtops. To learn more about choosing the perfect stone benchtop for your space, read our blog: How to Choose the Best Stone Benchtops for Your Kitchen: A Comprehensive Guide. 
Step 6: Illuminating Your Kitchen Space
Effective lighting can utterly transform your kitchen, enhancing its functionality and creating a welcoming ambience that makes it the heart of your home. A significant element when considering your favourite kitchen renovation ideas is the strategic incorporation of different types of lighting. For instance, pendant lights above your kitchen island not only serve as a vital source of task lighting, but they can also add a stylish focal point to your kitchen. Available in a wide array of designs, from sleek and modern to rustic and vintage, pendant lights contribute to your kitchen's character and can be chosen to complement your chosen style.
However, artificial lighting is just one part of the equation. Nothing can replace the beauty and warmth of natural light streaming into your kitchen. It not only makes your kitchen appear brighter and more spacious, but it also enhances the overall mood. Consider implementing design strategies that increase the influx of natural light. This could involve anything from installing larger windows, incorporating a skylight, or even rearranging your kitchen layout to optimise the daylight reach. By carefully balancing the mix of pendant lights and natural light, you can create a radiant, inviting kitchen space that's not only functional but also a joy to spend time in.
Step 7: Integrating Dining Room & Kitchen
Creating a harmonious flow between your kitchen and dining room will enhance the overall appeal of your home. Your kitchen renovation offers an excellent opportunity to ensure these two vital spaces not only coexist but also complement each other in terms of design. Key considerations should revolve around shared elements, such as colour schemes, styles, and lighting, aiming for a seamless transition that's aesthetically pleasing and practical.
Start by echoing the colours, materials, or patterns from your kitchen design in your dining room. This could be as subtle as matching the colour of your kitchen cabinets with your dining chairs or as bold as using similar pendant lights or flooring. Additionally, maintaining a consistent style across both spaces strengthens the cohesion. For instance, if you have a contemporary kitchen with clean lines and minimalist decor, a dining room with a similar design language will enhance the overall continuity. By mindfully integrating these two areas, your home can embody a unified, welcoming atmosphere that effortlessly blends function with style.
Step 8: Freshen Up with New Appliances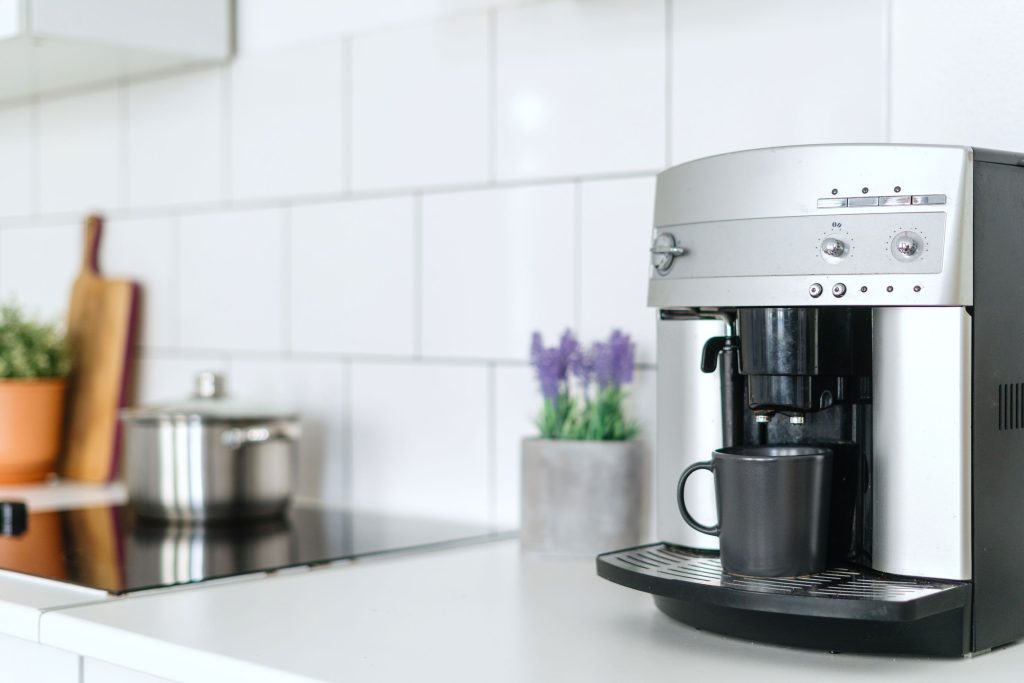 New appliances revitalise your kitchen, often acting as the finishing touches that bring your kitchen renovation ideas to life. Apart from their functional importance, they contribute significantly to the overall aesthetics and ambiance of your kitchen. Black appliances, for instance, can imbue your space with a sleek, modern edge. They offer a strong contrast in light-coloured kitchens, creating a stylish, high-contrast look. Additionally, their versatile nature allows them to blend seamlessly with a variety of design styles, from contemporary to industrial.
On the other hand, coupling these with white cabinets can introduce a bright, airy feel to your kitchen. The contrast between black appliances and white cabinets generates a striking, sophisticated look without being overly dramatic. White cabinets are also known for their ability to reflect light, thereby creating the illusion of a larger, more spacious kitchen. They provide a clean backdrop that lets your new appliances stand out, adding an element of interest to your kitchen designs Perth. This mix of stylish new appliances and fresh cabinetry can truly breathe new life into your space, perfectly encapsulating the vision of your dream kitchen.
Let Us Do the Work for You
As Casvino Kitchen, we are passionate about all things beautiful, functional and custom kitchen renovations, but we know that the process isn't everyone's forte – which is why our experienced team are here to help! From bespoke kitchen cabinets to custom stone benchtops and full kitchen renovation services, we'd love to help you bring your dream kitchen to life. 
If you're struggling to make sense of all your kitchen renovation Perth ideas, or need a helping hand to get started, don't hesitate to get in touch with our friendly team today.