The kitchen is the heart of your home, which means making sure you love every aspect of it, from your cupboards to your benchtops, is so important.
If you're considering renovating your home, a modern kitchen is not only an aesthetically pleasing option but also functional and efficient. In this article, we will explore the latest modern kitchen ideas and trends, from innovative design concepts to space-saving solutions and effective colour schemes.
1. Open Shelving
Open shelving is a popular trend in modern kitchen design. It not only adds a decorative element but also provides easy access to kitchen utensils. Incorporating open shelving into your kitchen design can be as simple as removing cabinet doors or installing floating shelves.
When deciding which materials to use for your open shelving, consider the overall look you are trying to achieve. For example, wooden shelves can give a warm, rustic feel, while metal shelves can bring a modern, industrial vibe. If you want to make a bold statement, glass shelves can be an eye-catching addition to your kitchen.
Once your shelves are installed, you may want to add a few decorative touches like plants, baskets, or other accessories to give your shelves a unique look. Also, make sure your open shelving is well-lit to truly show off your design. Adding some task lighting or recessed lighting can make your shelves stand out and create a beautiful ambience.
2. Modern Appliances
Matching your appliances to the overall look of your kitchen is an important factor in creating a modern and stylish space. Sleek lines and stainless steel finishes are some of the most popular choices for a modern look, while more traditional styles such as white and wood grain can provide a timeless feel.
Incorporating appliances into your actual kitchen design can also be done in a variety of ways, such as adding a range hood to draw attention to the stove, or using a built-in refrigerator to create a seamless look.
With the right appliances, you can create a kitchen that is both beautiful and functional.
3. Built-In Storage
Built-in storage is a critical element of modern kitchen design. It not only ensures you have enough storage space to accommodate your needs but also keeps your kitchen organised and clutter-free.
Built-in storage solutions can include pull-out pantry shelves, built-in spice racks, and under-cabinet storage, along with custom cabinets designed to perfectly suit your needs. Custom cabinets also allow you to add personal touches to your new kitchen, letting you add some character to the heart of your home.
At Casvino Kitchen, designing bespoke kitchen cabinets is our passion. If you need handcrafting the perfect cabinets for your new kitchen, don't hesitate to give us a call and find out how we can work together.
4. Statement Lighting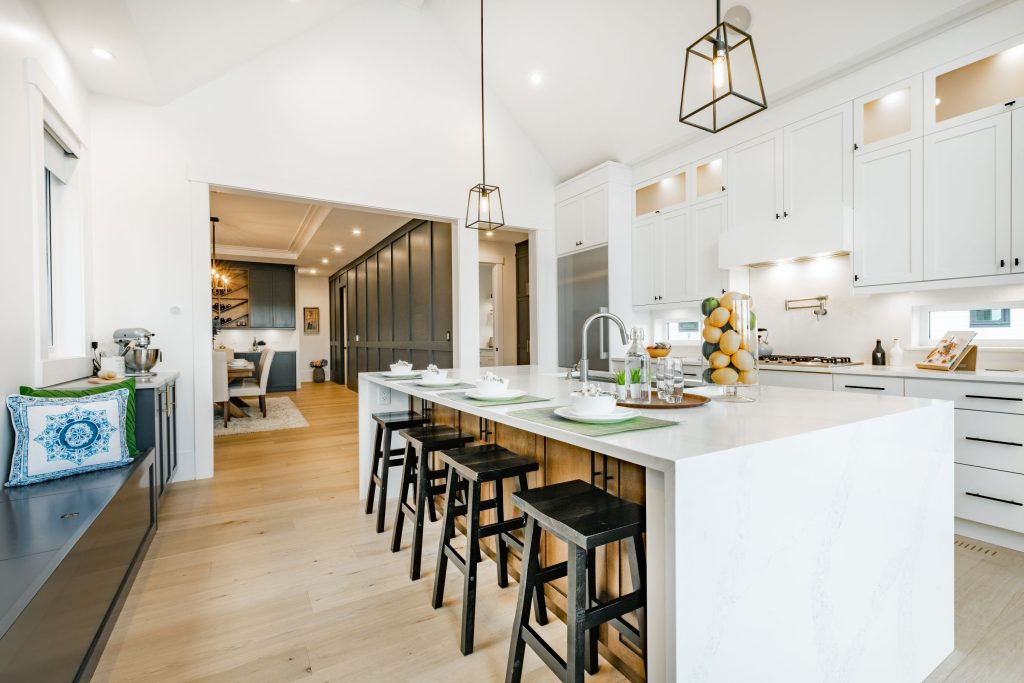 Statement lighting, along with natural light, is an important element in modern kitchen design. It not only provides necessary lighting but also adds a decorative touch to your kitchen. Aged brass pendant lights, pendant lights, chandeliers and wall sconces are all popular choices. Different types of lighting, such as task lighting and ambient lighting, can be used to create a well-lit and inviting space.
In addition to statement fixtures, modern kitchens can also benefit from the use of natural lighting through windows and skylights. Natural light can help to create a more open and airy atmosphere, while also providing a great source of illumination. All of these lighting sources can be used together to create a beautiful and inviting kitchen space.
5. Kitchen Islands
Kitchen islands are a popular feature in modern kitchens, providing additional counter space, storage, and seating. After all, there's nothing like a beautiful kitchen island lined with bar stools, adding a social element to the heart of your home. Plus, with the ability to get custom kitchen cabinets designed into your kitchen island, the storage capacity and design freedom is limitless.
There are many different types of kitchen islands, including stationary islands, rolling islands, and built-in islands, which can be made from a variety of materials, including wood, metal, and stone.
If you're looking for a partner to help you design custom cabinets for the kitchen island of your dreams, our experienced team at Casvino Kitchen would love to help! 
6. Bar Stools
Bar stools are a great way to add a modern feel to any kitchen, and are the perfect thing to pair with your kitchen island. They are also a great way to add extra seating to your space, making it a much more social environment. They come in a variety of styles, shapes, and colours, so you can find the perfect look for your home.
When choosing modern bar stools, look for sleek lines, minimalist kitchen designs, and bold colours as they can be a great way to add a pop of colour to a neutral kitchen. Also remember to consider the height of the countertop, to ensure you get the right-sized stools. You want to make sure that the stools are the right height to be comfortable for sitting and eating. 
6. Modern Colour Scheme
When designing a modern kitchen, the colour scheme you choose is critical to the overall feel of the space. A modern colour scheme for a kitchen can be achieved by using a combination of neutral tones such as white, grey, and black. This creates a clean and contemporary look that is both stylish and timeless. For a more vibrant look, you can add a pop of colour with shades of blues, greens, and yellows.
No matter what colour scheme you choose, a modern colour scheme will bring a fresh and inviting atmosphere to your kitchen.
7. Stone Benchtops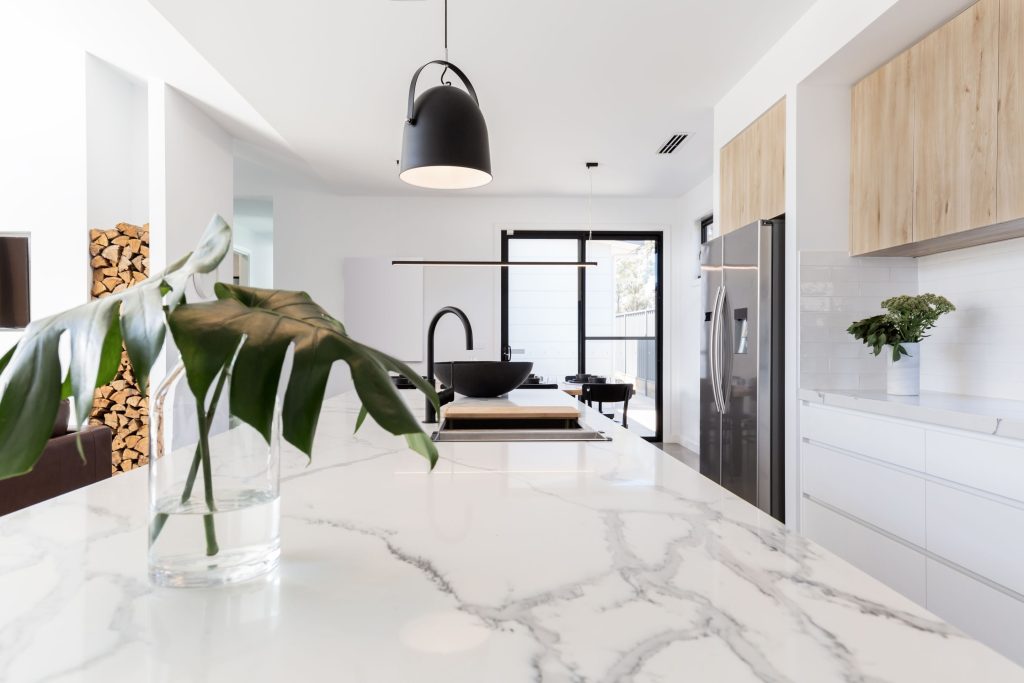 Stone benchtops are an important element of modern kitchen design. They can add a touch of sophistication and style to any kitchen, and come in a variety of different materials. Granite, quartz, marble, and soapstone are all popular choices, and each offers its own unique look and feel. To learn more, read our blog about how to choose the best stone benchtop for your kitchen.
Granite is known for its durability and is available in a range of colours and patterns, while quartz is a more affordable option with a sleek, contemporary look. Marble is a timeless classic, and soapstone is a great choice for a rustic or vintage-inspired kitchen. With so many options, you can easily find the perfect stone benchtop to make your kitchen feel modern and stylish.
If you need a hand sourcing the best stone benchtops Perth for your home, give our team a call-we'd love to help you out.
8. Modern Backsplash
When it comes to modern backsplashes, choosing the right tiles is essential. Popular Kitchen designs Perth trends include white subway tiles as well as glass, stone, and ceramic tiles, all of which can be used to create a unique and stylish look.
Additionally, metallic tiles are becoming increasingly popular, as they offer a modern and sophisticated look. No matter what type of tiles you choose, make sure they fit in with the overall design of your kitchen. 
By incorporating these modern kitchen ideas, from storage ideas to lighting, kitchen cabinets Perth and more, you'll be able to create a timeless kitchen that will stay modern and functional for years to come. 
To discover more kitchen inspiration, explore our blog featuring our 5 favourite kitchen designs of all time.